Who We Are
IPTFC provides patients with the highest standard of care
and cutting-edge techniques that can maximize the body's ability to move, heal and perform at an optimal level. IPTFC takes a one-on-one care approach that focuses on patient education - not only for treatment but also for prevention.
OUR GOAL IS TO MAKE YOU FEEL
WELCOMED AND RELAXED

From the moment you walk through the doors at IPTFC you will feel

our teams genuine concern for your overall health and general comfort.

During your initial visit, our team will evaluate your health history and discuss your current condition. Following the evaluation, a thorough examination will be performed in a private treatment room in order to identify the cause of your pain and/or discomfort. Once the source is discovered, an intricate treatment approach is established in order for you to achieve positive results.

Pain alone is inconvenient enough, so we've made our care as convenient and easy as possible, our flexible office hours and short wait times work around your busy schedule.

Check out our Patient Info page to learn about our flexible insurance and payment options.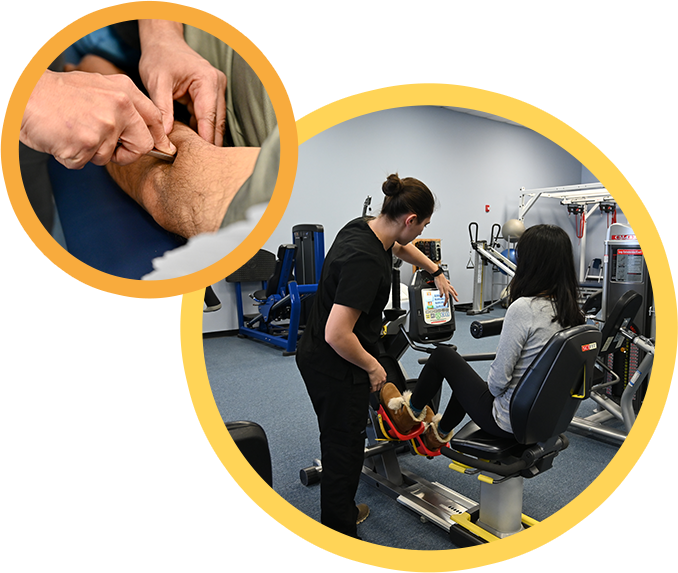 Meet the Team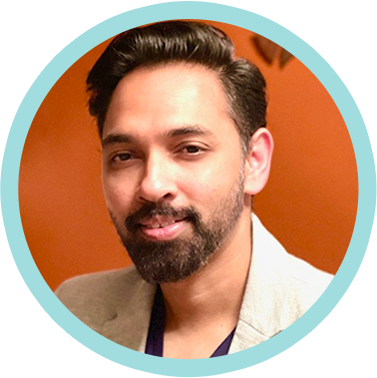 Suresh Babu
Founder/President
PT, DPT, MS
Read Bio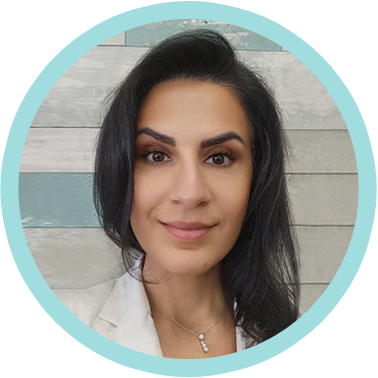 Regina
Director of Operations & Patient Advocate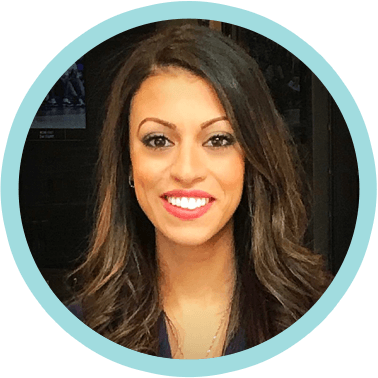 Silvia Meawad
Clinical Director (Kendall Park)
PT, DPT
Read Bio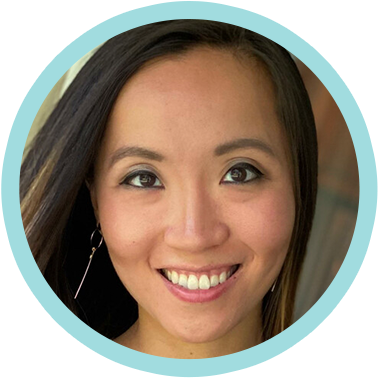 Laura Wong
Clinical Director (Princeton)
PT, DPT
Read Bio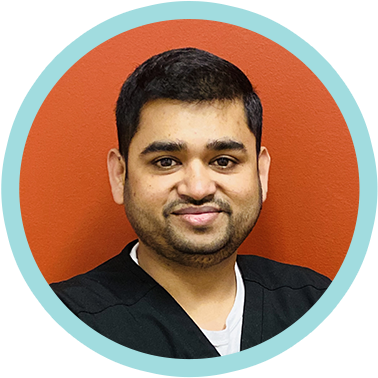 Preyas Mehta
Clinical Director (Edison)
PT, MS
Read Bio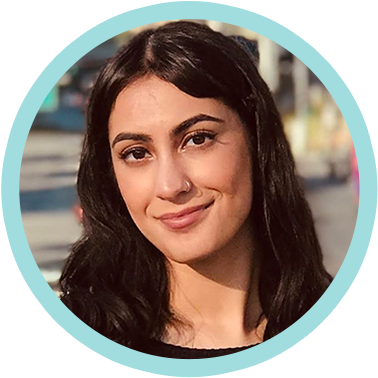 Kanika Jethani
PT, DPT
Read Bio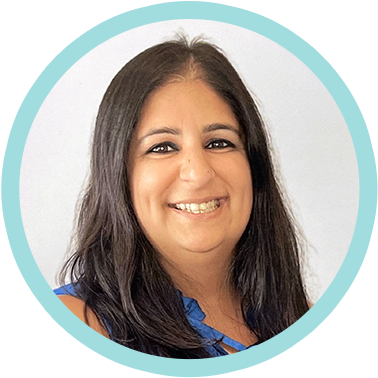 Aditi Chandan
PT, DPT, CLT, WCS
Read Bio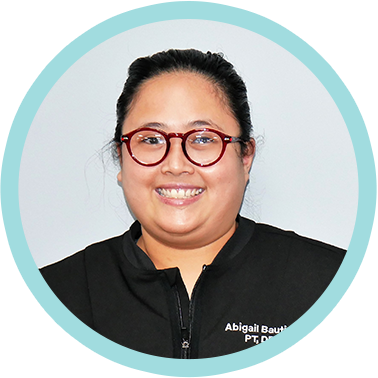 Abigail Bautista
PT, DPT
Read Bio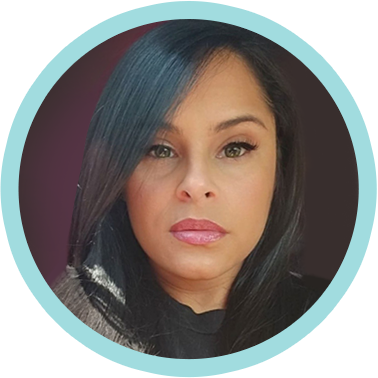 Kathyria Robinson
Office Manager (Edison)
Suresh Babu, Founder/President, PT, DPT, MS
Dr. Suresh Babu, Founder/CEO of Innovative Physical Therapy and Fitness Center graduated with Advanced Masters in Orthopedic and Sports Physical Therapy from Quinnipiac University, CT followed by which he pursued Clinical Doctorate in Physical Therapy at MGH Institute of Health Professions, Boston.
Dr. Suresh believes that a successful clinical outcome depends on three factors: respecting patient values, competent clinical judgement and incorporating evidence based treatment approach. Dr. Suresh uses cutting edge technology in combination with Manual Physical Therapy skills that had given ground breaking results. In addition Dr. Suresh holds Certification in Artificial Intelligence in Health care from Massachusetts Institute of Technology and Health care Data Analytics from Wharton School of Business Management that had successfully enabled him to analyze various data from medical research and derive at a successful evidence based treatment approach for his patients.
Dr.Suresh is an active member of American Physical Therapy Association and New Jersey Chapter of Physical Therapy. Dr.Suresh has been a Clinical Instructor at Seton Hall University in the past. Dr. Suresh is actively pursuing MBA in Health care.
Dr. Suresh also is a Co-Founder of Innovative Physical Rehab and Wellness Center, Old Bridge, NJ.
In his free time Dr. Suresh enjoys spending time with his family, traveling and loves working out in the gym.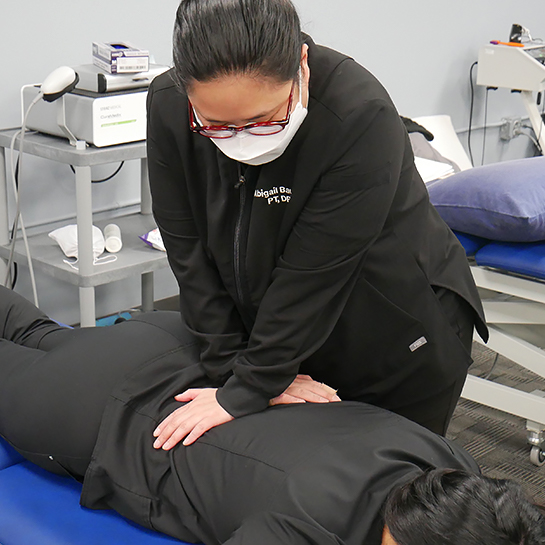 Abigail Bautista PT, DPT
Dr. Abigail C. Bautista, an avid shoe collector and basketball lover, knew she wanted to work in physical therapy at an early age. Growing up, she participated in various sports teams, oftentimes getting injured but never discouraged as each injury solidified her deep passion in helping people heal. Her aspiration to become a physical therapist further grew after her grandfather suffered a stroke. She would take her grandfather to his physical therapy appointments where he often told her that she possessed the qualities to be successful in this field. After he passed, she promised herself she would fulfill his wish.
Abigail graduated from Rutgers University with a Bachelor of Science Degree in Exercise Science and Sports Studies, minoring in Nutrition. In 2013, she received her Doctorate in Physical Therapy from the University of Saint Augustine for Health Sciences. She has experience working with a variety of patients with orthopedic conditions, balance/gait difficulties, sports injuries, and post-surgical cases. She believes in establishing a positive rapport with each patient and creating individual treatment plans to ensure their successful rehabilitation while making each session fun.
While not in the clinic, she loves spending time with her family and friends. She also can be found maximizing her Target Circle offers and winning sneaker raffles.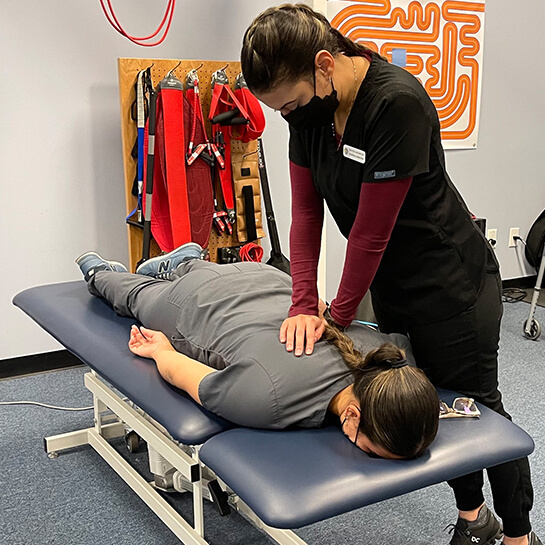 Silvia Meawad, Clinical Director (Kendall Park), PT, DPT
Silvia received her undergraduate degree; a Bachelor of Science in Biology with a minor in Political Science from Stony Brook University in New York.  Silvia then attended Rutgers University where she graduated with a Doctorate in Physical Therapy in 2015, where she also was the recipient of the Clinical Excellence Award.
Silvia began her career in New Jersey working in an outpatient orthopedic clinic with emphasis on sports rehabilitation and aquatics. During that time she advanced her clinical and manual skills by treating patients of all ages with various orthopedic, neurological, and vestibular presentations. Over the course of her career, she has served as Clinical Director at multiple outpatient facilities in both the States of Maryland and New Jersey.
Silvia furthered her education and training by completing an advanced certification in Aquatic Physical Therapy (ATRIC) from the Aquatic Therapy and Rehab Institute, as well as a Certification in Vestibular and Concussion Rehab (AIB-VR/CON) from The American Institute of Balance. Silvia has always had a passion for using both her education and skills to help patients reach their goals, as well as teaching and mentoring future therapists by serving as a clinical instructor for students from numerous collegiate institutions.
Silvia has also served as an adjunct professor in the field of Physical Therapy, as well as a volunteer faculty member with George Washington University in Washington DC.
In her spare time, Silvia enjoys exercising and spending time with her husband, children, and dog Cosmo.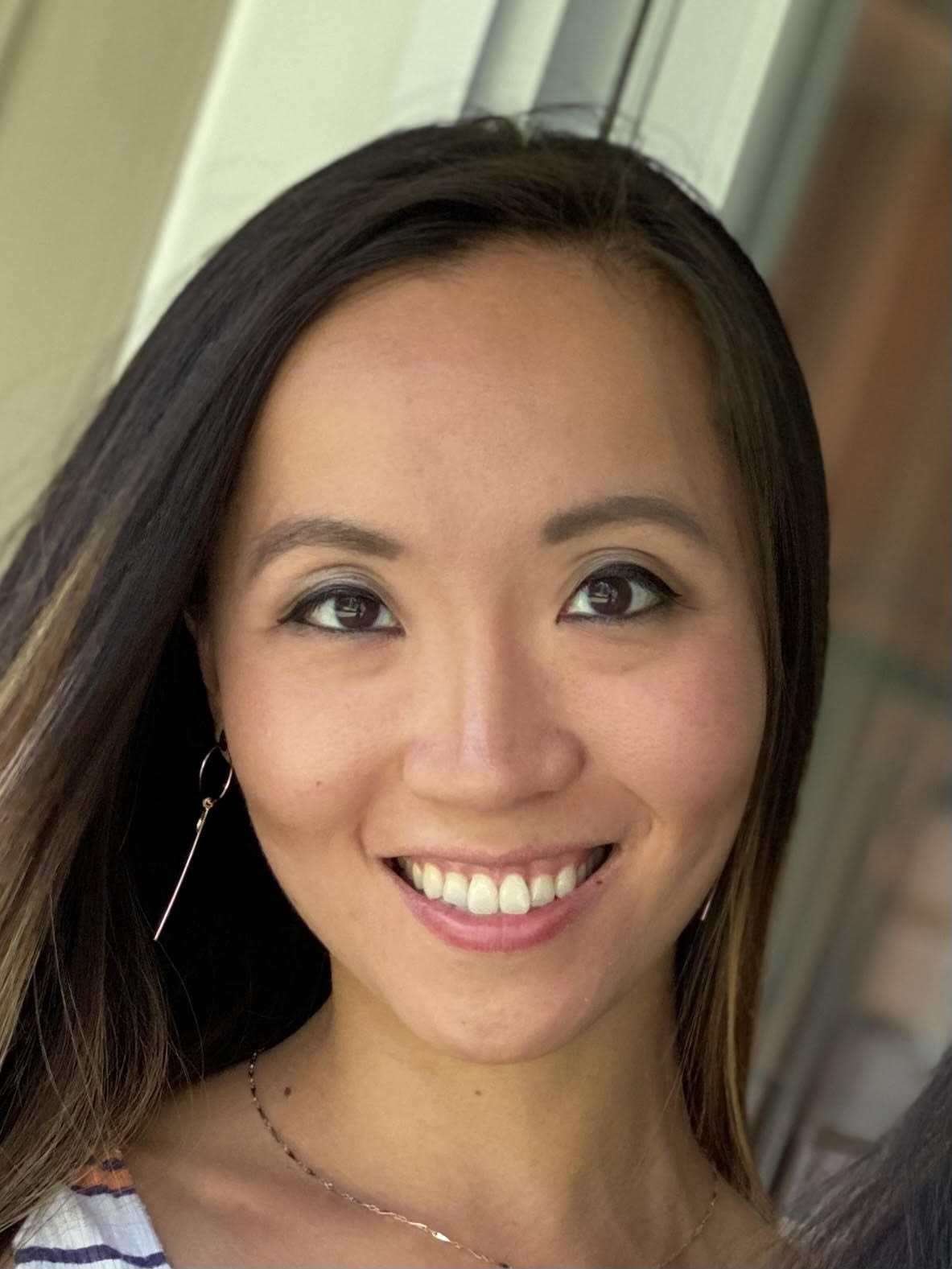 Laura Wong, Clinical Director (Princeton), PT, DPT
Laura graduated with a Bachelor's Degree in Biology with a minor in Public Health from Boston University before pursuing her Doctor of Physical Therapy degree at Rutgers School of Health Professions. Her interest in physical therapy began while studying abroad in Sydney, Australia, where she completed a clinical internship in an outpatient facility.
After receiving her Doctorate in Physical Therapy, Laura worked in outpatient orthopedic clinics, treating patients with sports injuries, post-surgery and movement based disorders. Laura's interest in creative exercise and weight training led her to complete a certification in Strength and Conditioning (CSCS) shortly after receiving her DPT. After one year as a physical therapist, Laura was promoted to Clinical Director of her outpatient facility. Laura strives to provide the best patient care by making every patient experience individualized, helping them reach their goals and improve their quality of life.
Outside of the clinic, Laura enjoys traveling on weekends with her friends and her partner, sampling the best local food, spending time with her family and finding creative ways to keep herself moving and exercising. In the summers, you will find her on her stand-up paddle board paddling New Jersey's lakes, rivers and reservoirs.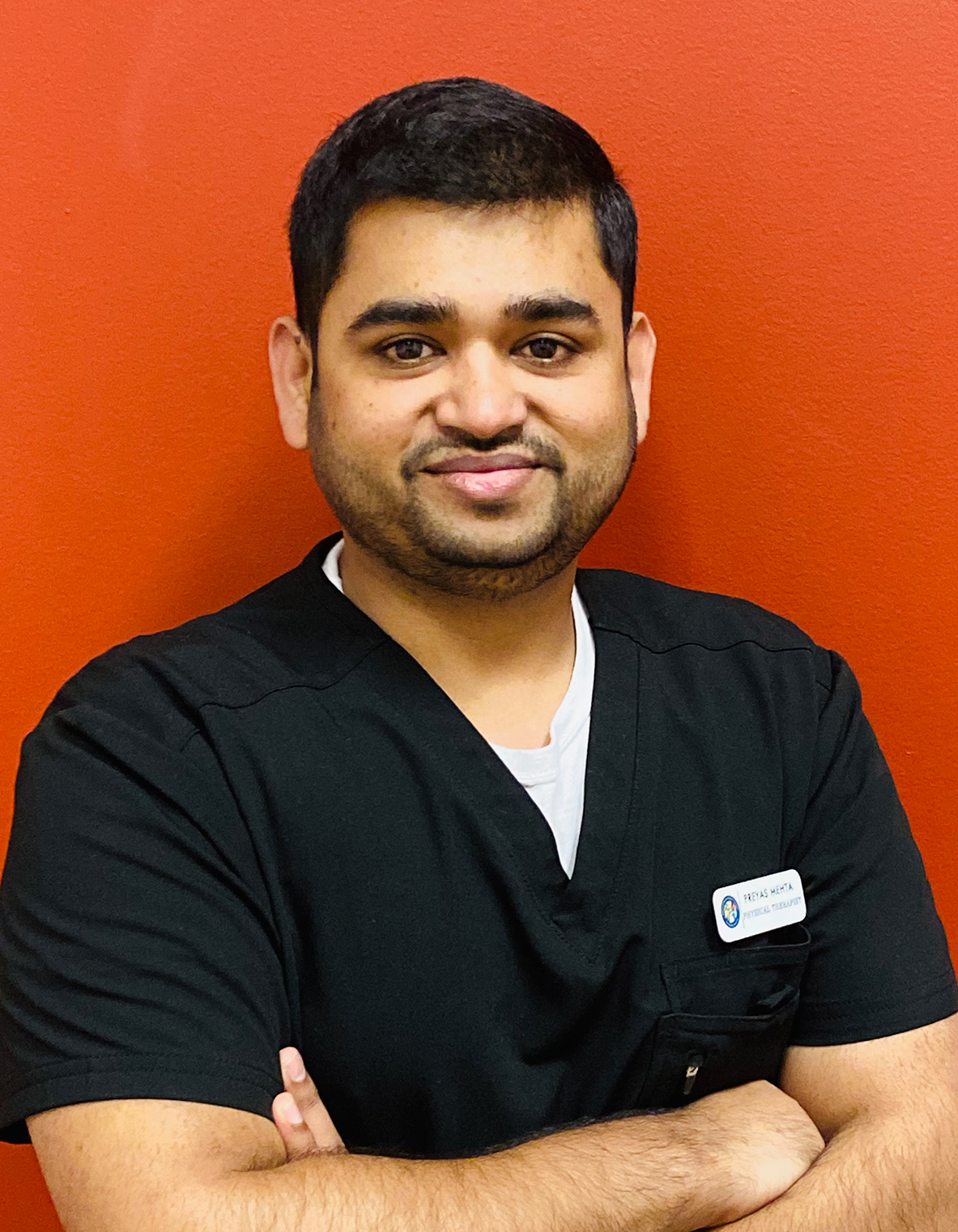 Preyas Mehta, Clinical Director (Edison), PT, MS
Preyas was born and raised in India. He completed his bachelor's degree in Physical Therapy from Rajiv Gandhi University of Health Sciences in India. Preyas then continued his education at Midwestern State University in Texas where he obtained his Master of Science in Exercise Physiology.
Preyas began his career working in India as a Clinical Physical Therapist in 2009 prior to coming to the United States. Preyas relocated to the East Coast in 2012 when he started his first job in New York. Preyas currently holds his Physical Therapy license in New Jersey, New York and Texas. He enjoys treating patients with orthopedic conditions, post-operative cases and sport injuries, but has treated patients in various settings.
Preyas currently lives in Somerset County with his wife. In his free time, he enjoys spending time with his friends doing activities such as trying out different food, bowling, hiking, camping, kayaking, shooting and taking long drives.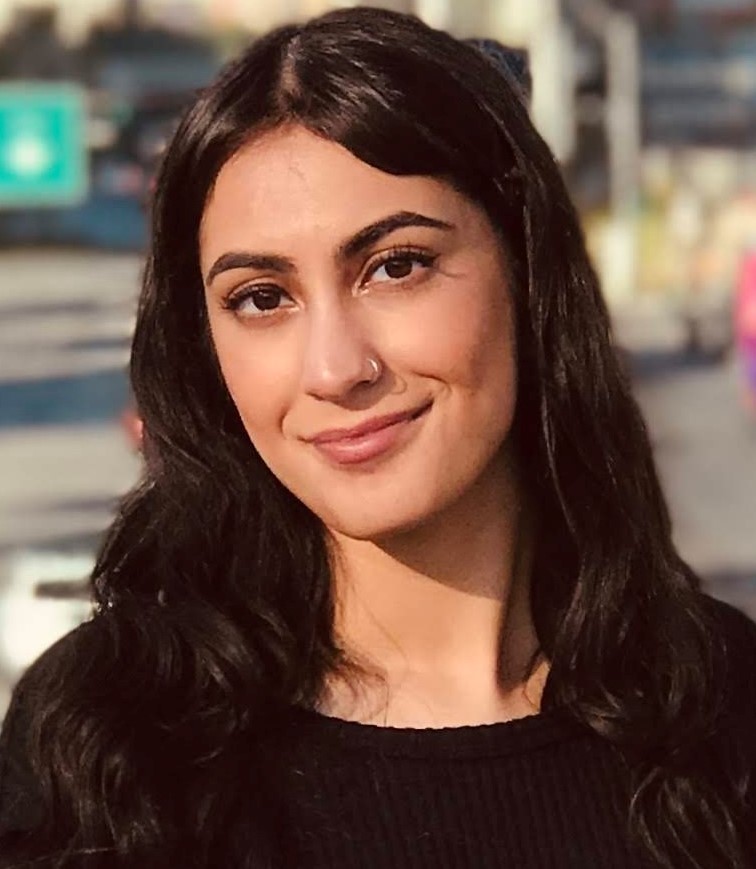 Kanika Jethani PT, DPT
Kanika is a pelvic floor and orthopedic physical therapist. She graduated from Saint Joseph's University, formerly known as University of the Sciences. She has worked in multiple orthopedic settings working with a variety of cases including musculoskeletal and neuromuscular disorders. She has attained her Pelvic Floor Level 1 certificate and is able to treat pelvic dysfunction which includes urinary incontinence, pelvic organ prolapse, pelvic pain, bowel/bladder issues, and pre/post natal treatment. She also offers personalized care for chronic pain, trauma, and sexual disorders. She has been trained in the application of SEMG biofeedback for the pelvic floor as well to improve any muscular imbalances that may be present.
As of now, Kanika is in the process of attaining her Women's Health Clinical Specialist (WCS). She also has a high interest in Yoga and loves to incorporate it into her practice for those who are interested. She plans to get further training and certifications in Yoga as well. Kanika believes that practicing mindfulness is the key to becoming our best selves. In her free time she loves to workout and spend time by the beach.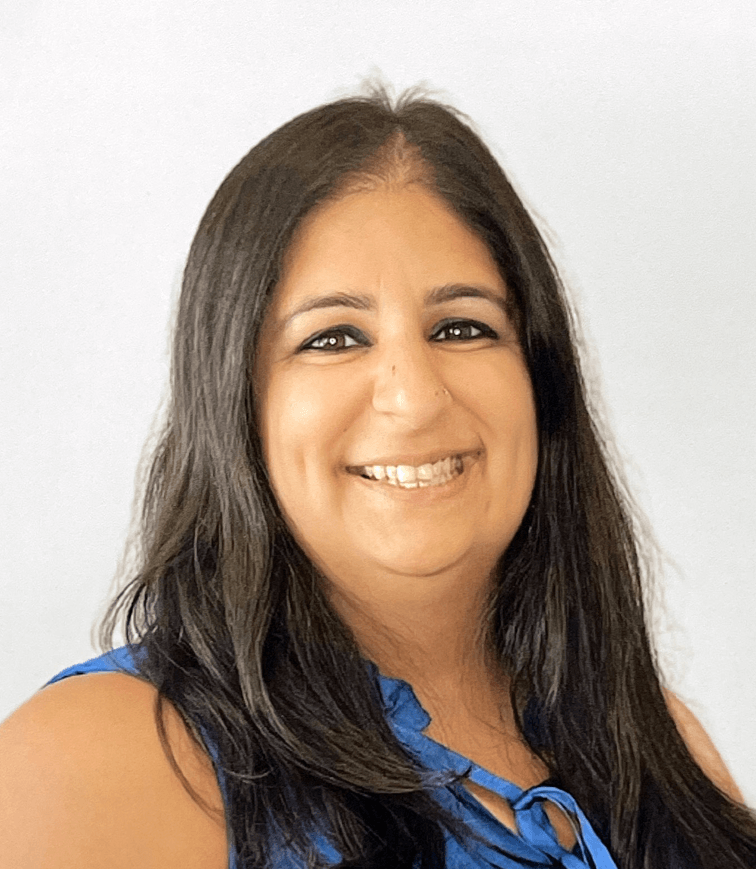 Aditi Chandan PT, DPT, CLT, WCS
Dr Aditi Chandan is a NJ transplant hailing from Western NY. She gained her Bachelor of Science from SUNY-Buffalo in Buffalo NY, and earned her Doctorate of Physical Therapy (DPT) at the University of Hartford in West Hartford CT in 2012. After that she spent 6 years in TX where she worked as part of the Baylor Scott & White Rehabilitation system and completed a 14-month post-professional residency in all genders' Health Pelvic Physical Therapy management, including certification as a lymphedema therapist (CLT). Following residency, she received her national Board certification as a Pelvic Health Specialist in Physical Therapy.
Aditi has experience in treating various patients in acute care, inpatient rehabilitation, subacute rehabilitation, and outpatient orthopedic settings. She is adept in the treatment of all musculoskeletal conditions and takes a particular interest in female athletes (dancer/gymnasts). She has taken several continuing education courses on the management of orthopedic diagnosis as well as chronic pain diagnosis. On the WH/MH side, Aditi is specialized in the treatment and rehabilitation of pelvic floor dysfunction, constipation, fecal incontinence, urinary incontinence, obstetrics/post-partum therapy, gender transitioning, osteoporosis, rheumatoid arthritis, lymphedema, oncology management, and fibromyalgia/chronic pain.
When Aditi is not working, she loves to spend time outdoors, and with family and friends. She is an avid fan of reading, dancing, musicals/theatre, cooking, and watching her Buffalo sports teams.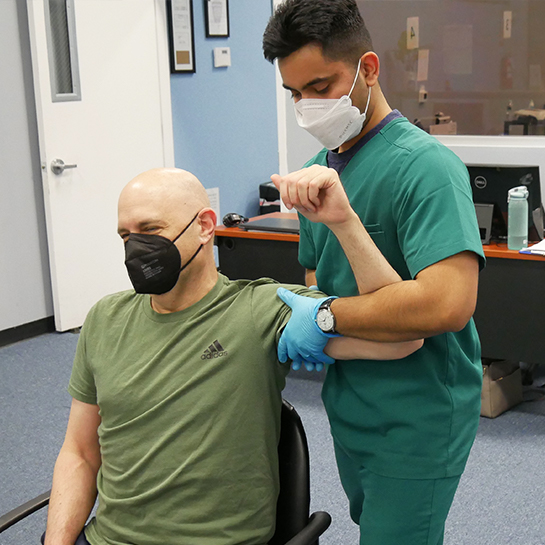 Wade Baliga PT, DPT, MS
Wade Baliga is a skilled Physical therapist with a Master's in Kinesiology specialization from Dallas Baptist University and Doctor of Physical therapy from Arcadia University. Dr. Wade incorporates concepts of kinesiology and Manual Orthopedic techniques in his treatment methods that enables faster recovery.
Being an athlete enables him to prescribe clinically significant exercises that focus on the impairment and prevent recurrence of injury. Furthermore, his shared empathy and compassion for his patients make him more vigilant towards their progress. With all the tools available at his disposal, Dr. Wade is a skilled Physical Therapist that you can count on.
Dr. Wade resides in Central Jersey and in his free time he enjoys working out and playing soccer.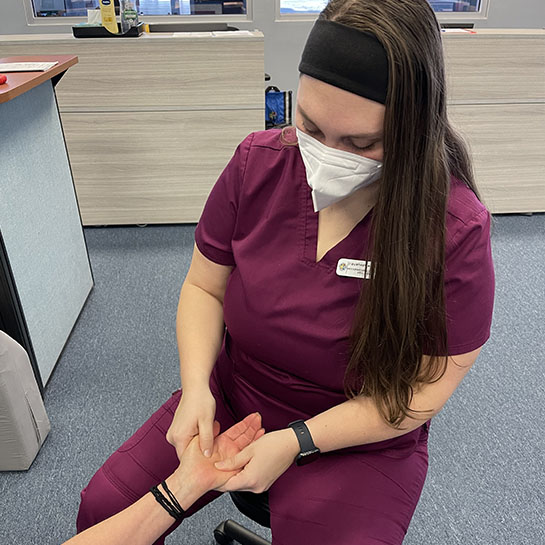 Courtney Mulligan OTD, OTR/L
Courtney Mulligan, OTD, OTR/L, graduated with a Doctorate in Occupational Therapy from Thomas Jefferson University. Dr. Mulligan has worked with children and adults in a variety of settings. Her pediatric therapy experience includes providing sensory-based interventions, promoting fine and gross motor skill development, and integrating play interventions through a family-centered approach in schools, homes, and outpatient clinics. Her adult therapy experience includes orthopedics, hand therapy, post-surgical rehabilitation, and traumatic brain injuries. Dr. Mulligan has extensive knowledge of human anatomy and upper extremity orthopedic conditions through her teaching experience as an adjunct professor for the applied anatomy and kinesiology course in the Thomas Jefferson University OT program curriculum.
Dr. Mulligan believes in providing patient-centered care with goals centered around regaining independence in functional activities that are meaningful in her patients' daily lives through evidence-based interventions, patient education, and manual therapy techniques. Dr. Mulligan is an active member of the American Occupational Therapy Association and other professional organizations as well as being an active speaker at various conferences about her doctoral research project and program development projects in higher education. She is also currently working towards her goal of becoming a Certified Hand Therapist.
Dr. Mulligan resides in South Jersey and in her spare time enjoys traveling and spending time with friends and family.
DIRECT ACCESS
The Truth About Seeing a Physical Therapist First
What exactly is direct access? No smoke and mirrors here - it's just what it sounds like! Direct access is the ability to directly access your physical therapist without a physician referral or prescription.
How does it work?
Direct access is regulated at the state level. New Jersey law allows patients in New Jersey to receive physical therapy treatment from a licensed physical therapist at an outpatient rehabilitation provider ("Provider") without a referral from a licensed health care professional ("Direct Access Law") . Since 2003, New Jersey consumers have had the ability to access the services of a physical therapist directly without a referral from a physician, but very few understand the benefits of this strategy and when they should consider it.
If you're interest in learning more about Direct Access Laws, we recommend visiting the American Physical Therapy Association's site.
Common problems that would benefit from an evaluation and treatment by a physical therapist would be waking up with a stiff neck, low back pain, ankle sprains, shoulder pain with limited mobility, muscle strains, knee pain and many other conditions that are limiting your ability to function at home, work or in your recreational sport.
A recent publication by the Centers for Disease Control (CDC) also emphasized the benefits of physical therapy for the treatment of chronic pain instead of opioid medications which can be highly addictive. They also concluded that there is evidence that exercise supervised by a physical therapist can reduce the pain associated with knee and hip osteoarthritis and be able the sustain the reduced pain state for 2-6 months. These findings are supported by strong clinical evidence and patients can access the skills of a physical therapist directly here in New Jersey, thus saving valuable healthcare dollars.
Can a Physical Therapist diagnose my problem?
While physical therapists do not make a medical diagnosis, the diagnosis of your functional impairment is within our scope of practice and can be vitally important in determining the cause of you pain that may be affecting your ability to participate in functional and recreational tasks. The diagnosis is a label for a collection of signs and symptoms gathered through the evaluation and examination of your particular problem. It is an essential part in determining the course of treatment and the predicted time frame it will take to complete the goals established.
Why does direct access really matter to me?
Let us give you four good reasons. 
Early access saves money! Over 50% in back pain costs alone. It also often prevents the need for further healthcare. Over 13 million Americans see their doctor each year for relief from chronic low back pain. The right physical therapy within 14 days of the onset of pain minimizes the average total cost of care by 50%. That's a lot of money each year!
Low back pain patients who receive physical therapy immediately after the pain begins and adhere to their treatment plan spend $3,000 a year in associated healthcare costs. Those who delay receiving physical therapy and do not adhere to their treatment plan spend $6,000 per year for all kinds of healthcare.
At your first appointment with a physical therapist, you'll receive a personalized treatment plan based on your evaluation and will begin implementing the plan that day. The primary care physician to orthopaedic specialist to physical therapist pathway is likely to put you well over the 40-day mark before you're even in the door to see a PT.
Physical therapy is a CDC-recommended alternate treatment plan to dangerous opioids and in some cases, just as effective (if not more!) than surgery. It's also a much cheaper alternative to costly diagnostic imaging.
Turn on the news and it's likely you'll see a story about a death that can be attributed to opioids or heroin. Opioid prescriptions for pain management have quadrupled since 1999, causing a national health crisis. In response, the Centers for Disease Control and Prevention (CDC) released guidelines in March 2016 urging prescribers to reduce the use of opioids in favor of safer alternatives in the treatment of chronic pain. Physical therapy is one of the recommended nonopioid alternatives.
Here's why:
Physical therapists treat pain. Opioids mask it.
"Side effects" of physical therapy include improved mobility, increased independence, decreased pain, and prevention of other health problems through movement and exercise. Opioid side effects include depression, overdose, addiction, and withdrawal symptoms.
Physical therapy is effective for numerous conditions, and the CDC cited "high quality evidence" supporting exercise as part of physical therapist treatment for familiar conditions like low back pain, hip and knee osteoarthritis, and fibromyalgia. Opioid effectiveness for long-term pain management is inconclusive in many cases.
Additionally, physical therapy has been found to be as effective as surgery for conditions including meniscal tears and knee osteoarthritis, and lumbar spinal stenosis. Plus, you don't have to worry about side effects, risk of infection, etc. that are associated with surgery.
Lastly, a 2015 Health Services Research study found that the average cost of care was shown to be $4,793 more if a patient had an MRI first vs. seeing a physical therapist first. The study also shows the increased use of other services like additional diagnostic imaging and medication when the MRI is done prior to physical therapy.
Your physical therapist and your orthopaedic surgeon are equal when it comes to diagnostic accuracy.
Clinical diagnostic accuracy by physical therapists and orthopaedic surgeons on patients with musculoskeletal injuries is not statistically different. Both providers had significantly greater accuracy than that of nonorthopaedic providers. (As in, double the accuracy!)
What about my insurance, will it cover my direct access visits?
Most insurances will reimburse for physical therapy services without a physician referral, although occasionally some do still require one. It depends on your insurance provider and coverage. Our billing team is more than happy to verify your benefits for you, feel free to give them a call at any time!
Medicare and Direct Access – Can you come directly to physical therapy?
If you are a senior citizen and covered by Medicare Part B you can come directly to physical therapy without a referral from your physician. However, you must be under the care of a physician and they must agree and sign the plan of care established by the physical therapist. For example, you may develop acute neck pain and would like to see us for immediate treatment. We can perform an evaluation and initiate treatment, but your physician of record must sign and agree to the plan established which is faxed to their office. Some physicians may want to see you before agreeing to this plan but most will sign and certify the plan directly.
Are there any exceptions to my insurance company paying for Direct Access to physical therapy without a referral?
Yes, there are a few instances that still require a referral from a physician in order for your insurance company to pay for services. This may include if your injury is due to a Motor Vehicle Accident or your particular insurance plan requires a referral to see any specialist. In both cases a referral and not a prescription is required. We will always tell you in advance if any of these conditions exist that may affect payment for physical therapy services.
What is the NJ Law that governs the practice of Direct Access to Physical Therapy Services?
13:39A-2.5 REFERRAL OF PATIENTS AND CONSULTATION STANDARDS FOR LICENSED PHYSICAL THERAPISTS a) A licensed physical therapist shall refer a patient to a health care professional licensed to practice dentistry, podiatry or medicine and surgery in this State, or other appropriate licensed health care professional: 1) When the licensed physical therapist during the examination, evaluation or intervention has reason to believe that physical therapy is contraindicated or symptoms or conditions are present that require services outside the scope of practice of the licensed physical therapist; or 2) When the patient has failed to demonstrate reasonable progress within 30 days of the date of the initial treatment. b) Not more than 30 days from the date of initial treatment of functional limitation or pain, a licensed physical therapist shall inform the patient's licensed health care professional of record regarding the patient's plan of care. In the event there is no identified licensed health care professional of record, the licensed physical therapist shall recommend that the patient consult with a licensed health care professional of the patient's choice. In a school setting, the schedule of physical therapy services shall be reported to the child study team by the licensed physical therapist within 30 days of the date of initial treatment.
At the end of the day, we're by no means recommending you avoid your primary care physician altogether. But, in the instances when you know physical therapy is what you need, isn't it better to get straight to the source right away? And this way, you're ready to make an informed decision on the best choice for you.
Ready to schedule an appointment or have any questions?
You can call us at 732-853-8177 or request online appointment and also post all your questions and concerns in the "request appointment" section and we will be glad to talk to you and answer all your questions.